Hoy os traigo la alfombra roja de los Premios BAFTA. Ya sabéis que es la cita con el cine británico y nos deja mucho más claro los favoritos de cara a los Oscar. Os recuerdo que la gran noche del cine será este próximo domingo. Pero volvamos a los BAFTA. La cita tuvo lugar en el Royal Albert Hall de Londres. Allí acudieron Kate y William, mis royal favoritos. Pero antes de ver el ranking vamos con los premiados de la noche del cine británico.
Mejor película: 1917 de Sam Mendes. Mejor película británica: 1917 de Sam Mendes. Mejor debut británico: Bait de Mark Jenkin. Mejor película de habla no inglesa: Parásitos de Bong Joon-ho. Mejor documental: For Sama de Waad al-Kateab y Edward Watts. Mejor película de animación: Klaus. Mejor dirección: Sam Mendes por 1917. Mejor guión original: Parásitos. Mejor guión adaptado: JoJo Rabbit. Mejor actriz: Renee Zellweger por Judy. Mejor actor: Joaquin Phoenix por Joker. Mejor actriz de reparto: Laura Dern por Historia de un matrimonio. Mejor actor de reparto: Brad Pitt por Érase una vez… en Hollywood. Mejor banda sonora: Hildur Gudnadottir por Joker. Mejor casting: Joker. Mejor cinematografía: Roger Deakins por 1917. Mejor montaje: Le Mans '66. Mejor diseño de producción: 1917. Mejor vestuario: Mujercitas. Mejor maquillaje y peluquería: El escándalo. Mejor sonido: 1917. Mejores efectos visuales: 1917. Mejor cortometraje británico de animación: Grandad was a romantic. Mejor cortometraje británico: Learning to skateboard in a warzone (if you're a girl). Premio a la estrella emergente: Michael Ward. Y ahora vamos con la alfombra roja!
87. Maya Jama.
86. Dalia Ibelhauptaite y Dexter Fletcher.
85. Cinderella Balthazar de Joshua Kane.
84. Anna Elisabet Eberstein y Hugh Grant.
83. Kellie Shirley.
82. Nurce Erben.
81. Sandy Powell.
80. Zazie Beetz de Marina Moscone.
79. Heather Bird.
78. Jinko Gotoh y Sergio Pablos.
77. Lily-Rose Depp de Chanel.
76. Sunetra Sarker.
75. Victoria Hervey.
74. Ronke Adekoluejo.
73. Megan Barton-Hanson.
72. Sasha Rainbow.
71. Maryan Mohajer.
70. Jacqueline Durran.
69. Jessie Buckley de Miu Miu.
68. Victoria Thomas.
67. Kae Alexander.
66. Tiziana Rocca.
65. Rose Williams.
64. Krysty Wilson-Cairns de Givenchy.
63. Dee Koppang y Dermot O'Leary.
62. Freya Allan.
61. Kaitlyn Dever de Miu Miu Alta Costura y Jessica McCormack.
60. Anne Morgan.
59. Edith Bowman de The Vampire's Wife y Gina.
58. Alison Balsom y Sam Mendes.
57. Gillian Anderson de Camilla & Marc, Jimmy Choo y Anya Hindmarch.
56. Charlotte Carroll.
55. Pippa Harris.
54. Sophie Simnett.
53. Niamh Algar de Louis Vuitton.
52. Victoria Silvstedt de Georges Makaroun.
51. Vera Wang con diseño propio.
50. Tanya Burr.
49. Ruby Serkis.
48. Nicki Lederman.
47. Kate Stock y Jonathan Pryce.
46. Rebel Wilson de Prabal Gurung Alta Costura.
45. Manjinder Virk.
44. Kathleen Kennedy.
43. Gemma Whelan de Sachin & Babi y Rupert Sanderson.
42. Amber Anderson.
41. Daisy Ridley de Oscar de la Renta Alta Costura.
40. Florence Pugh de Dries van Noten y Jimmy Choo.
39. Chelsea Winstanley y Carthew Neal.
38. Alice Jeffrey.
37. Leonie Hanne de Ralph & Russo.
36. Rhoda Ofori-Attah.
35. Niamh Algar y Joe Alwyn.
34. Greta Gerwig de Gucci.
33. Carly Paoli.
32. Aisling Bea.
31. Victoria Harwood y Asif Kapadia.
30. Vanessa Kirby de Valentino.
29. Victoria Bonya.
28. Rooney Mara de Givenchy Alta Costura.
27. Naomie Harris de Michael Kors Alta Costura y Jessica McCormack.
26. Olivia Colman de Alexander McQueen Alta Costura y Atelier Swarovski.
25. Naomie Ackie de Valentino.
24. Liza Marshall y Mark Strong.
23. Lulu Wang de Simone Rocha.
22. Jo Hartley.
21. Hannah John-Kamen de Ralph & Russo Alta Costura.
20. Emilia Clarke de Schiaparelli Alta Costura.
19. Antonia Desplat.
18. Alice Eve de Ralph & Russo Alta Costura.
17. Wallis Day.
16. Hildur Gudnadottir.
15. Jodie Turner-Smith de Gucci Alta Costura.
14. Hofit Golan de Jean Fares Couture.
13. Joanne Tucker y Adam Driver.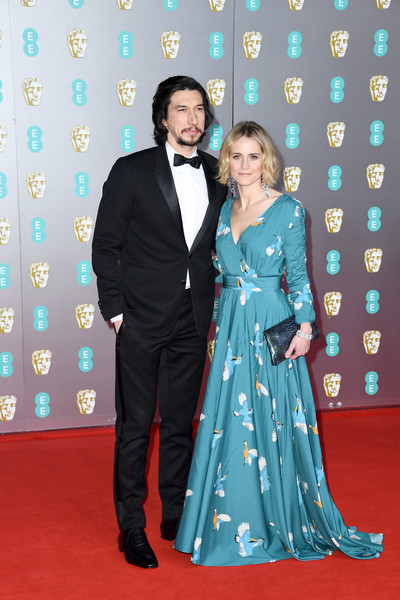 12. Saoirse Ronan de Gucci Alta Costura.
11. Zoe Kravitz de Saint Laurent.
Las diez primeras son…
10. Vick Hope de Tran Hung.
9. Margot Robbie de Chanel Alta Costura.
8. Pixie Lott de Sandra Mansour.
7. Kristin Scott Thomas de Erdem.
6. Ella Balinska de Giambattista Valli Alta Costura y Casadei.
Las cinco primeras son…
5. Renee Zellweger de Prada Alta Costura, Jimmy Choo y David Webb.
4. Charlize Theron de Christian Dior Alta Costura.
Medalla de bronce para…
3. Scarlett Johansson de Atelier Versace.
Medalla de plata para…
2. Catherine Middleton de Alexander McQueen Alta Costura, Jimmy Choo, Anya Hindmarch y Van Cleef & Arpels junto a su marido, el príncipe William.
Y la mejor vestida es…
1. Laura Dern de Valentino Alta Costura y Jessica McCormack.
¿Estáis de acuerdo conmigo?
C